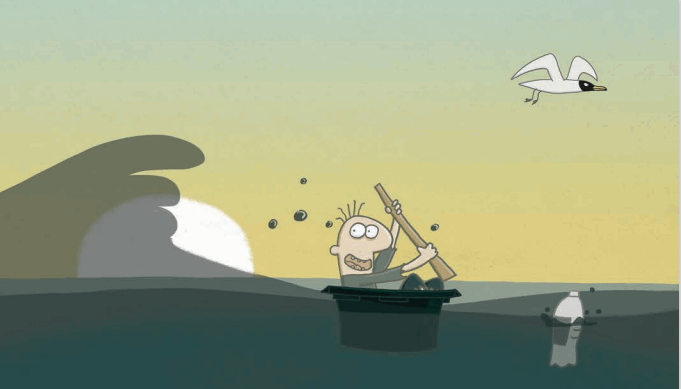 Framed: Regionale Shorts
Film

animation

Framed

Share
Northern Shorts is an exciting programme with animated shorts from our region.
It offers a platform for animators who live, work, study or are raised in Groningen, Friesland or Drenthe. Watch these diverse locally made films together with the makers, who are there to give a bit of insight in their projects.

The following films are part of this shortsprogramme.
| | | | |
| --- | --- | --- | --- |
| Title | Director | Length | Description |
| Student leader | | 0:02:59 | |
| Cake-zilla | Johan Klungel | 0:00:46 | "Yes, Godzilla is at it again and is destroying the city, but this time he has a heartwarming reason for it" |
| RED: A trip | Marieke Druiven & Lieve van Loon | 0:02:10 | Have you ever wanted to experience a drugfilled adventure, without all the fuss? Watch "Red: A Trip" and find out what it's like! |
| De Verhouding | Sophie Spendel | 0:01:44 | Listen to my love language. |
| Ignore | Euan Mac Ruairí | 0:01:30 | Ignorance is not always bliss. |
| Evva - Dark Sea | Edward Kobus | 0:04:54 | While whales swim above the roofs of Dutch towns and cities, 2 people try to find each other in this video clip full of trippy metamorphoses. |
| De wraak van de 7 meerminnen | René Adema | 0:03:00 | When skipper Jurk Jensen is caught in a terrible storm, he is bagging on his knees for help. He promise to stay on his vessel for his life and will never to live on shore . Seven mermaids come to rescue Jurk and the storm dies down. |
| Zomer in Nederland | Fynn van der Ziel | 0:03:58 | In the music video 'Zomer in Nederland' Roosbeef chants her way through Dutch summer. Solar streams of hope and desire. |
| Red Dino | Kees Koorevaar | 0:04:30 | "Red Dino is a short film about a child with too much fantasy. The monotonous and lonely routine that's forced upon him every day makes him grow into a troubled teenager looking for a way out." |
| Mira is dood | Eva Lenis | 0:00:48 | |
| Princess and the Pea | Hyemin Lee, Lotte Huizenga, Anna-May Lohfeld | 0:04:34 | In this modern stop-motion rendition of "The Princess and the Pea," a skeptical prince tests a young woman's sensitivity in a quest to find a true princess, but ends up learning that true love may be more than just a list of ideal characteristics. |
| Questbound: Forbidden Ventures of the Undead Soul | Alexander Bierling, Owen Buckley | 0:07:03 | an evil king feared by all misreads the intentions of a noble knight, and ends up flirting with a married man. |
| Hananim (하나님) | Yateesha van Loon | 0:01:10 | 'Amongst countless pathways, we are perpetually in search. But in search of whom, where or what?' |
| Pet-ty Theft | Le Lam Khanh Truongova | 0:01:50 | A young girl chases a thief to reclaim her stolen grocery bag, which leads them to an apartment belonging to a stranger, who falls in love with the thief |
| Nocturnal Thought Bus | Hannah van der Weide | 0:04:18 | The nocturnal thought bus comes at night and will take you on a spiralling journey through your mind. Nocturnal Thought Bus is a music video for the german band Crystal Glass, made with mixed media. |
| Soep | Christa Moesker | 0:10:00 | |
Note: This page is under construction.
Agenda
There are no new dates planned (yet) for Framed: Regionale Shorts.